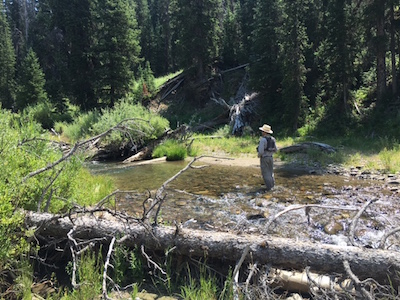 Saturday I sought refuge from the excessive heat by exploring
a small stream with my friend Matt and Lulu. I'd fished this water
before further down but hadn't explored one of it's smaller forks.
In a last minute decision I grab my "new" Tenkarka rod;
determined to give it a proper chance and see what all the
hullabaloo is about.
As I alluded to in a previous blog post, I've spent years
naysaying and making fun of this telescoping rod movement. On a
cold snowy day this winter though i broke down and bought one
from Tenkara Rod Company, a small company over the hill in
Idaho, and have been waiting for the right opportunity to test it
out. Well the water we were fishing Saturday seemed as good as it
gets for the glorified cane pole. So I extended it out to it's 11 feet
of tapered glory, tied a stimulator on the 3 foot piece of tippet and
proceeded to have a blast fishing it. It's really intuitive to use and
I quickly got use to not having the reel. The long reach of it was
ideal for getting perfect drifts around boulders, etc. and it was nice
not having to fumble with extra line. When not fishing, I collapsed
it down and put it in the back of my vest; I was dog training wit
Lulu while Matt fished, so it was nice having both hands free to
control the beast.
The small stream we fished was beautiful, meandering through
steep hills deep in Griz country. The water didn't seem to hold as
many fish as it should have, but the one's we caught were all really
nice for such water and I had a BLAST with the Tenkara rod. I'll
definitely be using it again for similar types of waters and days
when I'm out and want to keep things simple.
A good fish to break-in the rod with…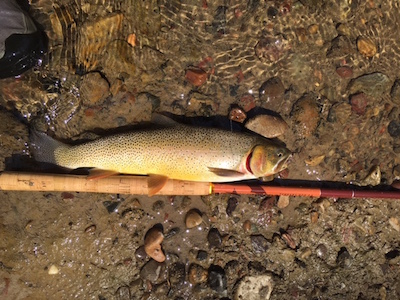 Lulu strikes a pose while Matt works some pocket water
down below.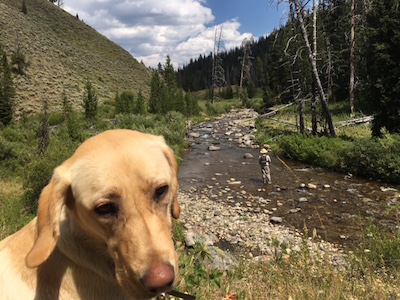 Close up of a beauty; I never get tire of the colors.
Probably will have to do a painting off this pic in the winter.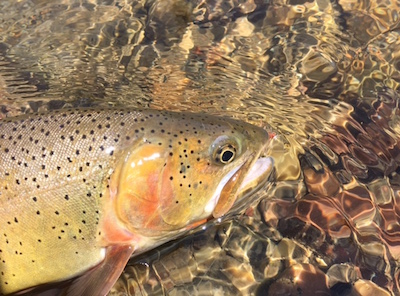 Matt fishes a nice hole deep in Griz country.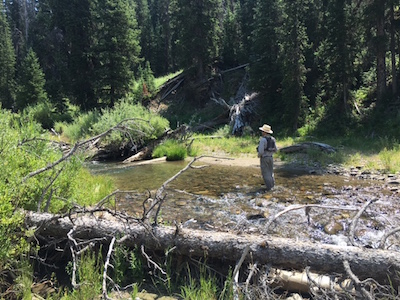 https://tetonflyfishing.com/wp-content/uploads/2019/02/IMG_1283.jpg
300
400
testing
https://tetonflyfishing.com/wp-content/uploads/2019/02/tenton-fish-logo.png
testing
2016-08-01 00:00:00
2016-08-01 00:00:00
Heat reprieve; small stream