Perhaps suffering from a bit of cabin fever or perhaps just
wanting to get out of town, on Monday Jamie and I hooked up
the drift boat and headed to the Big Horn. What is the Wind
River through the Wind River Canyon, the river emerges,
changes its name at the Wedding of the waters and flows north
through the town of Thermoplis, Wyoming.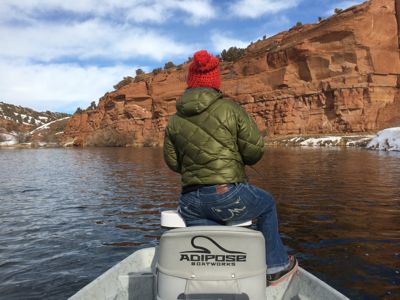 Jamie looks for risers. Despite a few midges on the
water, rises were few and far between
I've floated the BH a few times but this was Jamie's first
on this great tailwater. I'll be honest, expectations were high;
we hoped to catch some of the large rainbows and browns that
the river is know for. At the end of the trip though all we had
to show for ourselves was one feisty 'bow. Oh well, such is
fishing in January.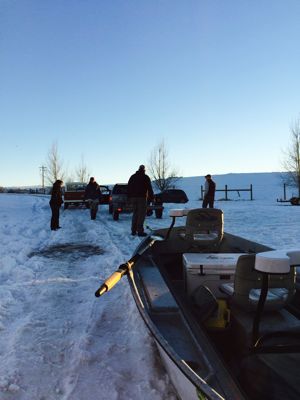 Taking out as the sun goes down; nothing a few tow
ropes can't solve.
The real excitement took place at the takeout where a
truck taking out ahead of us got stuck in the warmed snow.
Fortunately there were two older guys and their Ford Bronco.
Action based on years of experience was taken and eventually,
with the help of some tow straps and a surprisingly powerful
old Bronce, the truck got unstuck and pulled up the ramp.
Seeing this production, I decided it best not to back down to
the boat, instead attaching the tow straps to my winch and
cranking the boat up the snowy slope. Jamie and I left smiling,
proud to live in a state where strangers still happily help
strangers and no one gets stressed because things are running
a little behind schedule….
https://tetonflyfishing.com/wp-content/uploads/2019/02/takeout.jpg
400
300
testing
https://tetonflyfishing.com/wp-content/uploads/2019/02/tenton-fish-logo.png
testing
2015-01-30 00:00:00
2015-01-30 00:00:00
Back on the sticks