We're back. Back to the snow (although it looks like this
week's gonna warm up nicely) and trout streams of the mountain
west. Jamie and I spent the better part of the past two weeks
down in the Bahamas, relaxing and fishing. We met up with our
great friends, Kurt and Kelly for a reunion trip of sorts, renting a
house within walking distance of a big bonefish flat. Naturally we
fished a lot with a little snorkeling thrown in for good measure. For
sustenance, we ate conch, fish and washed it down with Kalik and
rum. Naturally with bonefishing, there were high points and low
points, but the high certain outnumbered the lows. It was really
great to walk the flats with my friend Kurt, taking turns casting to
the grey ghost that seemed to disappear as quickly as they
appeared.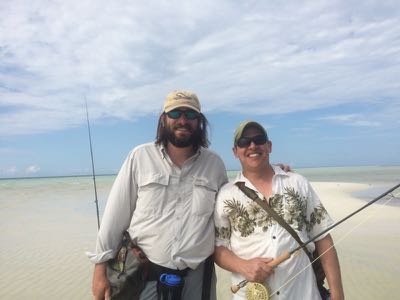 Me and Kurt about to walk the beach flat in the
morning. Kurt and I have been fishing together for A LONG time
and have had many memorable trips together.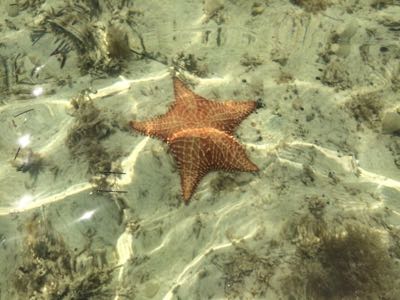 On one particular flat we fished, there were lots of these
beautiful red/orange starfish amongst the dead coral and
turtlegrass.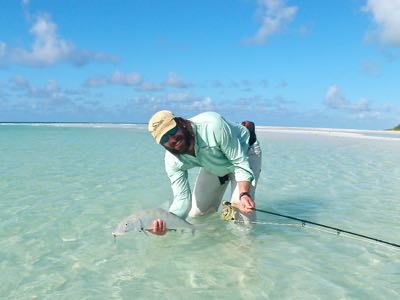 My most memorable bonefish of the trip. Caught this
guy in super skinny water one morning.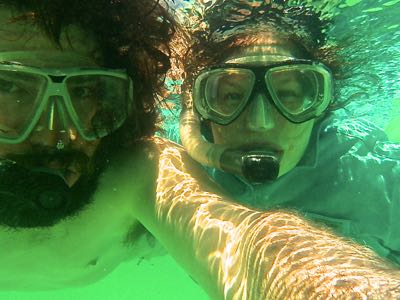 Jamie and I did some exploratory snorkeling out in front
of where we were staying. There were some cool coral formations
to see; lots of colorful tropical fish… Needless to say we needed an
underwater portrait to document. In another area we snorkeled,
there were several turtles that allowed us to swim with them.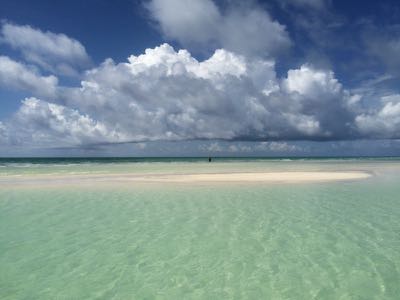 Most days Kurt and I fished this area; White sand flats
with BIG bonefish. The fishing is very tide dependent, so we
planned our days based around the tide chart. While the fish were
big, they were really spooky and required precise casting and
properly weighted flies.. We didn't catch many fish each day, but
the ones we did get were nice! Also saw 2 big permit one day and
got some casts to them. One admired my merkin pattern before
winking and slowely moving on….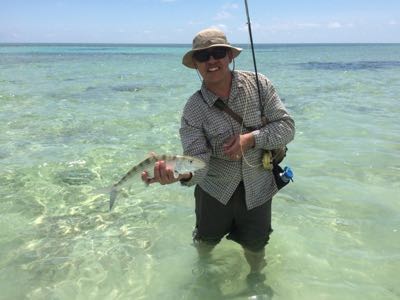 Here's Kurt with a nice bonefish. We fished this different
flat one day and did well. The fish here were much more
aggressive, eagerly eating our flies. I think this was due to the
rocky/turtlegrass bottom that was teeming with life. Made it harder
to spot fish, but when we did, they cooperated.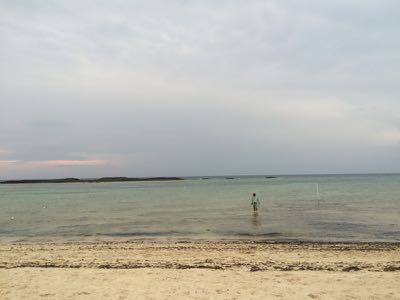 After dropping Kurt and Kelly off at the airport, Jamie
and I headed west and stayed at a nice little place that offered
great snorkeling and fine bonefishing on the incoming tide.
Unfortunately the weather pattern changed, bringing lots of clouds
and rain. It's really hard to spot fish without the sun. That said, I
managed a few and truth be told, it was kinda nice to have a rainy
day. We layed around reading with cold beer.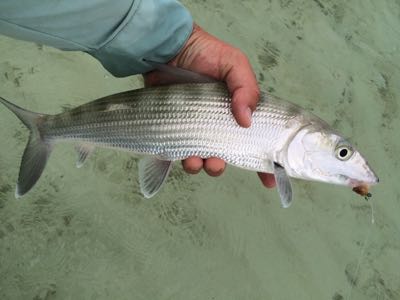 This is the last bonefish of the trip. Fished on the
incoming tide and despite the clouds, I stumbled upon a small
school of hungry fish. Shortly after this guy, I cast to a big
barracuda who ate my fly and took off for open ocean. I was
undergunned with my 8weight, knowing full well that it was only a
matter of time before he broke me off. Sure enough, after battling
for a bit, he severed my line.  A fun experience.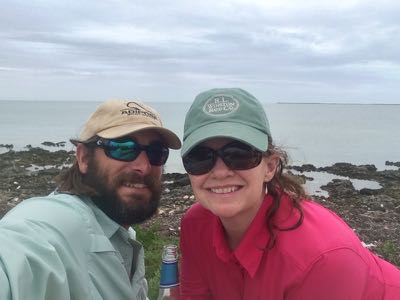 Jamie and I enjoying a Kalik while looking for
bonefish. 
So that's a quick summary of our time in the Bahamas. I gotta
say, the Bahamian people might be the nicest folks around. Their
hospitality and the natural beauty of the islands make me eager to
go back. And while the fishing was certainly fun, the best part of
the trip was Jamie and I getting to spend time with Kurt and Kelly.
It's hard living far away from such good friends, but cool that we're
able to rendezvous like this every now and then.
Now that we're back in Wyoming, my attention turns to the
upcoming fishing season. Client, both new and returning are
starting to fill up my calendar and it won't be long until we're
casting to rising trout. I'm headed over to Dubois this week to
teach an art project with my friend Matt. While most of our time
will be spent in the classroom, I'm sure we'll sneak in a little time
on the water…..
https://tetonflyfishing.com/wp-content/uploads/2019/02/me-and-jamie.jpg
300
400
testing
https://tetonflyfishing.com/wp-content/uploads/2019/02/tenton-fish-logo.png
testing
2015-04-26 00:00:00
2015-04-26 00:00:00
Bahamas and back