Over the past week or so I spent time guiding some great folks on a variety of fishy water. Longtime client Chris, came in and spent two days fishing/staying at the Teton Fly Fishing cabin. We focused our attention on some lakes, casting streamers and nymphs to nice rainbow trout from the drift boat. Springs is a great time to focus on lake fishing; trout are hungry and in the shallows, often allowing us to sight fish.
Chris shows off a nice rainbow from one of our days together on the water. Can't wait to float him in July.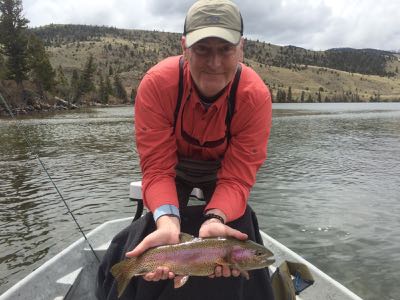 In addition to fishing Chris, I also had the pleasure of meeting and fishing Donald and his wife Lacee. These guys had never fly fished before and were looking to spend a few hours learning and fishing. Donald's interest stemmed from "the movie" and while we didn't shadow cast, we did fish nymphs in the off color water. These guys did great, following instructions and fishing like champs. In the end, Donald caught one nice brown trout and one nice cutthroat trout. Not a bad start….
Donald's all smiles as he shows off his first ever cutthroat trout!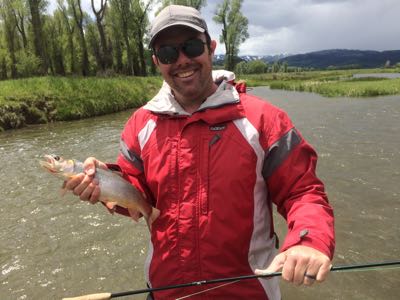 This weekend marks the opening of Yellowstone National Park for fishing. YNP is one of my favorite places to fish and I'm looking forward to spending some time up there with clients.
https://tetonflyfishing.com/wp-content/uploads/2019/02/donalds-cutthroat.jpg
300
400
testing
https://tetonflyfishing.com/wp-content/uploads/2019/02/tenton-fish-logo.png
testing
2016-05-29 00:00:00
2016-05-29 00:00:00
A little of this and some of that