The past week had me out on the water with various anglers from across the country. With Yellowstone National Park waters clear and fishing well, it was only natural we headed north. The Firehole is a fun place to be casting a fly as David and Ken of Florida learned yesterday. Both guys were able to catch some spunky brown and rainbow trout. Other anglers lately have fished the Lewis and upper snake with me. Both are fishing well and offer up some different water than typically fished around Jackson. I also took Tom out on some lakes last weekend while he was in town. Boy did we have fun catching rainbows on leeches and wooly buggers!
Ken works in his first Yellowstone Brown trout. Swinging soft hackles is always a good way to fish riffles on the Firehole..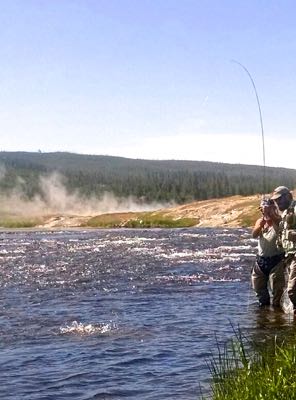 Overall fishing conditions are improving here daily. Driving home from YNP yesterday, it seemed that a lot of tributaries to the north (buffalo fork excluded) have dropped and are clear or very near clear. Looking at river flow charts, it looks like most rivers have peaked and are now falling. It won't be long before we're floating big waters like the Snake. Hope everyone's enjoying the sunshine!!
Return client David T. shows off a fine Firehole Rainbow. Trout in the Firehole may not be the biggest, but they do tug on a line!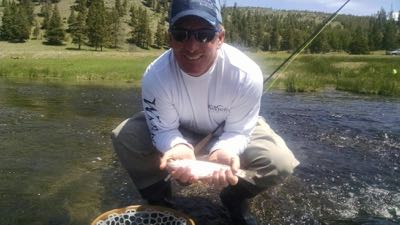 Tom McCoy is in fish heaven. He claimed our lake fishing to rival any of the "gold medal" waters of CO he use to fish!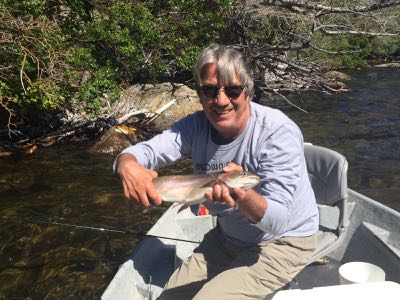 https://tetonflyfishing.com/wp-content/uploads/2019/02/toms-fish.jpg
300
400
testing
https://tetonflyfishing.com/wp-content/uploads/2019/02/tenton-fish-logo.png
testing
2015-06-18 00:00:00
2015-06-18 00:00:00
Firehole, lakes and flows