I couldn't wait any longer. Flies are being tied, and not tiny
ones for the local trout! These fly are tied on large stainless-
steel hooks and have legs, eyes, and claws- Bonefish
flies!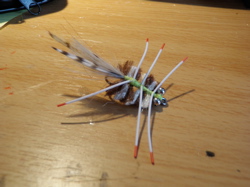 Over the years, I've become a bit of a bonefish addict.
This addiction seems to get worse the more I do it. (Make no
mistake, I'm not very good at it, but I enjoy it- fish or no fish.)
The thought of standing in warm Caribbean waters while
scanning for grey ghosts helps get me through the winter. This
however, is a problem for several reasons. First off, I live in
western Wyoming, nowhere near bonefish flats. And secondly
(and most important), I am not rich and bonefishing is a rich
man's game. Just price airfare and lodging to far off lands and
you'll see what I mean.
Fortunately, Jamie and I have been able to set aside some
money each year and travel (on the cheap) to bonefish rich
waters (primarily fishing on our own and staying at affordable
cabanas). We've spent the past few years exploring in Mexico
near the Belize border. And while we've enjoyed it there, this
year we thought it was time to try something new.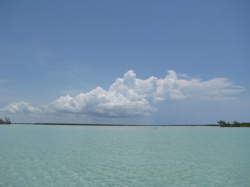 After looking at some options, we decided to give the
Bahamas a try. Originally, we were looking at Eluethera, but
after seeing the cost of airfare, etc., we're focusing our
attention on Grand Bahama. Seemed like it quiets down the
further east on the island you go, and we found a house to
rent on the beach for a very reasonable rate. Or friends, Kurt
and Kelly, are going to join us for the first week we are there,
and I can't wait to go looking for fish with Kurt. This brings
me back to the flies. In addition to tying enough flies for
myself, I also need to stock Kurt's fly box. Truth be told, we
both probably need a dozen or so basic bonefish patterns-
some gotchas, clousers and maybe a merkin. However, at the
rate I'm tying, we will hit the water with enough flies to stock
a fly shop!
Well, I'd like to keep writing about the bonefish, but I'm
headed out to fly fish on the Snake- hoping a few whitefish
will be hungry. More to come on the upcoming vacation later.
Enjoy the weekend.
https://tetonflyfishing.com/wp-content/uploads/2019/02/flats-resize.jpg
187
250
testing
https://tetonflyfishing.com/wp-content/uploads/2019/02/tenton-fish-logo.png
testing
2011-01-21 00:00:00
2011-01-21 00:00:00
Tying for the Bonefish