July has gone by with the blink of an eye. My updates here have been lacking, mostly due to long days guiding visiting anglers. Most of my trips have been floating the Snake, but I've also gone down to the Salt river, up into Yellowstone National Park and over to the Dubois fly fishing cabin. It's been fun introducing new folks to our great trout waters in addition to fishing numerous return clients.
Warm temperatures (hitting upper 80s and low 90s) have meant getting on the water early, but so far the fishing's been good with dry flies; both large attractors and smaller PMDs, etc. We also had a front row seat to the ever-growing Lava Mountain fire this weekend while at the cabin. So far the cabin is ok and the fire fighters are doing amazing work.
Tim shows off a nice Snake river fine spotted cutthroat trout. Small side channels can often hold some surprises!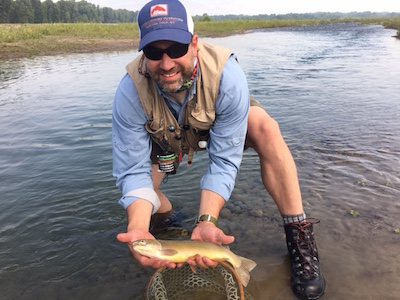 Like father, like son. Mitch one-ups his dad, catching this nice cutthroat on a big stonefly pattern.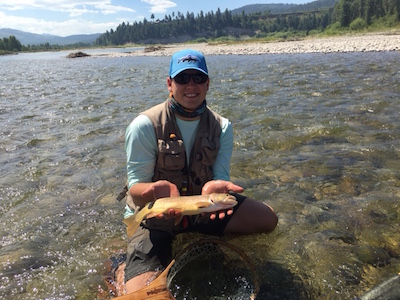 Chris got into some nice fish with me on the Salt river south of Jackson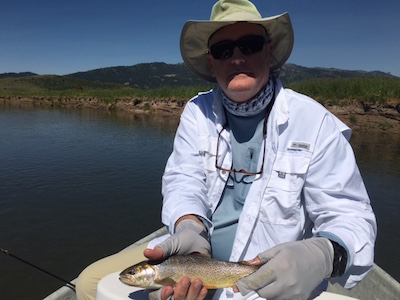 John (chris') friend came back this year to fool more fish. A good PMD hatch on the Salt gave these guys plenty of risers to target.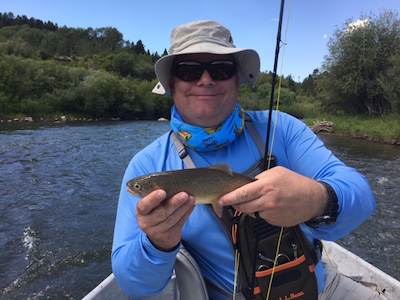 Fishing clients Jack and Bret got more than just a fishing trip. These guys got to see the Lava Mountain fire blow up from under 2000 acres when they arrived at the cabin Friday to 10000 acres when they left Sunday evening. Depite the fire threat, we fished some great water and the guys got into some wild Wyoming trout. We spent the evenings sitting on the deck, drinking beer while the helicopters flew overhead. As of today, Thursday, the cabin is safe. Crews are soaking our property and neighbors with a massive sprinkler system. Thanks to the fire crews for working so hard to protect structures. Here's a view of the fire as we drove back from fishing Sunday. The fishing cabin sits below Hat Butte (seen below, center left).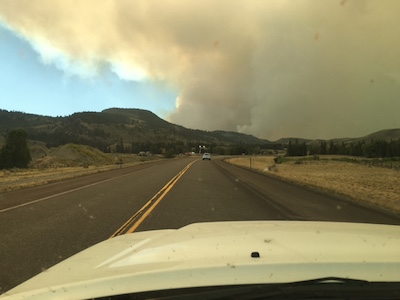 One of two helicopters fighting the fire behind our place. As of now, the fire's over 12k acres and growing….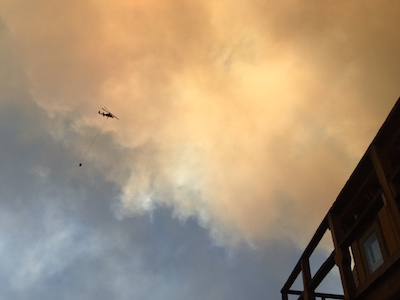 https://tetonflyfishing.com/wp-content/uploads/2019/02/IMG_1227.jpg
300
400
testing
https://tetonflyfishing.com/wp-content/uploads/2019/02/tenton-fish-logo.png
testing
2016-07-28 00:00:00
2016-07-28 00:00:00
Fish and Fire