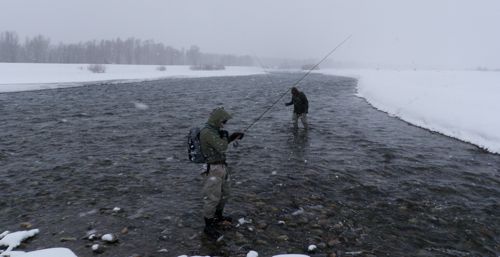 Most folks think of winter in Jackson Hole as a skier's paradise. And while this is undeniably true, it also can be a fun place to fly fish. Winter fly fishing appeals to hardy anglers seeking solitude, sweeping views and the chance to catch some of our native cutthroat trout and mountain whitefish. Unlike summer, most of the fly- fishing is done subsurface with nymphs and small midge patterns. Anglers trudge through snow, finding deep, slow pools holding wintering fish. Dead- drifting nymphs will work best, however some days trout rise sporadically to midges on the surface. While fishing, there is the added possibility of seeing moose and eagles along the river.
I offer anglers, half -day winter walk-in trips on the Snake River as well as overnight trips to fish the Wind River in Dubois. Like my summer trips, I pick folks up at their hotel and provide all fishing gear- rods, reels, flies, waders, etc. as well as lunch, coffee and drinks. Some walking or snowshoeing (up to a mile) is required, so it's best to be in decent shape. Expect to fish for three hours or so during the warmest part of the day.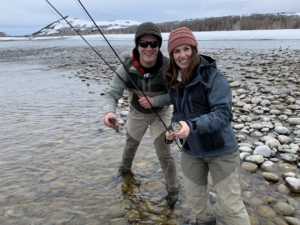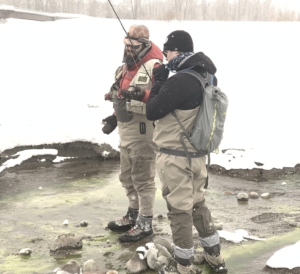 Half day walk-in Snake river trip (1 or 2 anglers) $450
Overnight trips make for two fun days of fishing the Wind river while staying at a warm, cozy cabin. The Wind provides good nymph fishing for nice Browns and Rainbows. In addition to fly fishing, there is some great cross-country skiing and wildlife viewing to be had. If you looking for a winter fishing/ski getaway, this may be perfect!
Overnight trip (1 or 2 anglers) $900
If this sounds like fun, give me a call or shoot me an email and let me take you fly-fishing while you're visiting this winter!