Yesterday was one of those days to remember. My friend Nick and I headed north out of Jackson to fish. While driving through Grand Teton park we saw our first Grizzly bear. We got to watch as the fuzzy bear fed in the grass up near Pilgrim creek. We drove on, already saying our day was made and we hadn't even fished yet.
As we drove slowly down a dirt road on our way to the river, I glanced to my left and saw a big grizzly grazing out in the field beside us. We stopped and watched for a good 10 minutes; just us and the bear. Man what a day!
Big Griz having breakfast.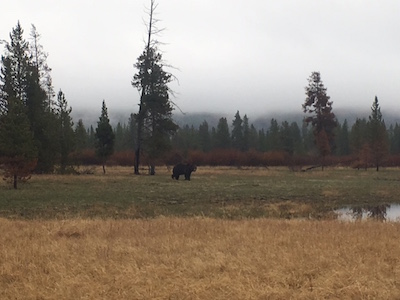 Eventually we got fishing, working our way down stream. I chose to swing streamers while Nick focused on nymphing. We spread out a bit on the water and I continued down hooking a couple of fish. I hooked another nice fish- a good size Yellowstone Cutthroat trout. As I was bringing the fish in, I noticed Nick walking down river toward me. He caught up and offered to take a picture for me.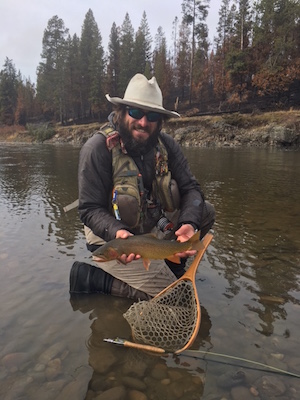 After a few pics, I stood up and thanked him. Then I saw that about 30 yards behind him was yet another Grizzly. This guys had just swam across the river right behind us and was now walking across the gravel bar. We turned and watched; remaining remarkably calm. Fortunately this guys didn't mind us and slowly lumbered on. WOW! So that's 3 bears so far.
I managed to snap a few pics as Nick watches. Let me tell you, this guys was closer than he looks in this picture.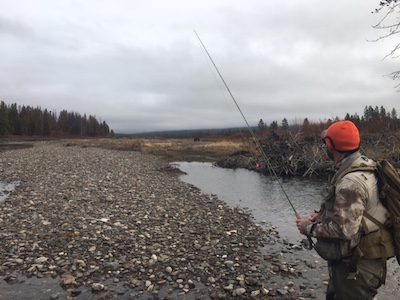 We continued fishing, albeit a little more on edge. As we made our way up river to explore some new water, we found ourselves slowly walking through the red willow bushes (yelling of course while we did this). As I scanned the country around us, I noticed a dark spot in an opening. Yep, another bear… we quickly worked our way through the bushes and back onto the open gravel. That's four bears on the day! As far as the fishing went, it was okay. We caught a few fish including a couple nice ones, but seeing these wild grizzly bears made the day one to always remember!
One of the browns that fell for my streamer.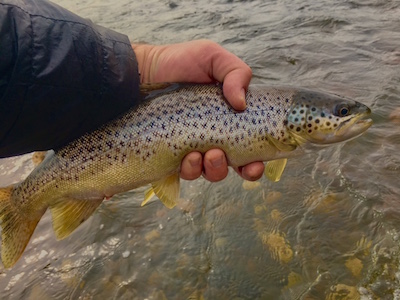 https://tetonflyfishing.com/wp-content/uploads/2019/02/FullSizeRender3.jpg
300
400
testing
https://tetonflyfishing.com/wp-content/uploads/2019/02/tenton-fish-logo.png
testing
2016-10-27 00:00:00
2016-10-27 00:00:00
Grizzly Bears