Every fishing season I keep a rough record of fly patterns I
use most, hoping to remind myself to make sure I have a
surplus for the next year. I'd say I have 15 or so patterns that I
rely on pretty heavily, with one in particular, the Sparkle Dun,
being my hands-down favorite for imitating mayflies.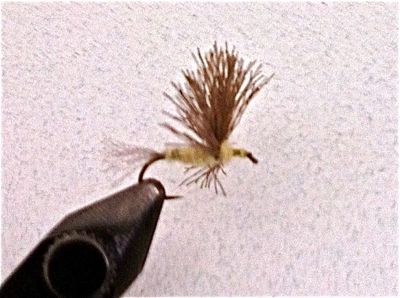 The Sparkle Dun plays off the deer hair wing and dubbing
body that made the comparadun famous, but adds a bit of
zelon to the tail, making the pattern resemble an emerging
mayfly still attached to its nymphal shuck. The beauty of this
pattern is its simplicity. It doesn't require many materials and
is a quick tie, perfect when you have to crank out a dozen in
the early morning hours before hooking up the boat. Versatility
wise, the Sparkle Dun floats high in the water and can be
fished throughout a mayfly hatch, imitating emergers, cripples,
duns and spinners. Heck, clip the wing and add some lead to
you leader and you have yourself a nymph!
I carry a variety of Sparkle Duns to "match" various
hatches out here in Jackson Hole. When fishing the Snake or
Green rivers, I make sure I have plenty of PMDs, Grey Drakes
and BWOs (baetis for those of you who insist on Latin…) Tying
these patterns only requires changing hook size and body
color.
In the next few days, look for a video showing how to tie
this fantastic pattern.
https://tetonflyfishing.com/wp-content/uploads/2019/02/sparkle-dun.jpg
298
400
testing
https://tetonflyfishing.com/wp-content/uploads/2019/02/tenton-fish-logo.png
testing
2013-03-21 00:00:00
2013-03-21 00:00:00
Great mayfly pattern or Greatest?