The dry fly fishing on the Snake has been great lately! It's
nice to see the river in such good shape; clear, ample fish
holding channels and riffles and lots of bugs. Each day I've
been having clients fish a variety of different flies to the local
trout. I'd say PMDs, Yellow stoneflies and parachute adams
are my favorites at the moment. We also have started to cast
some large foam bugs now that the grasshoppers are out and
about. Here's Jim with a nice Snake river cutthroat trout.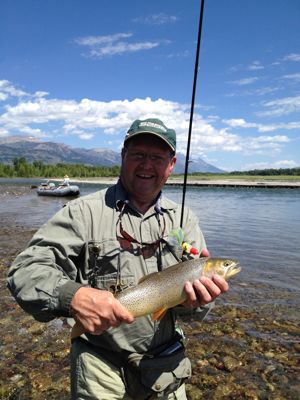 After spending the week on the water with some
great clients, Jamie and I thought we'd get out of town and do
a quick camping trip. Our destination was the Tri Basin area,
more specifically, LaBarge creek. A small stream high in the
Wyoming range rumored to contain pure Colorado river
Cutthroat trout, LaBarge and the surrounding wilderness
seemed to be just the adventure we were looking for. 
Somewhere between Jackson and Alpine, we decided that
since we were headed to the Tri Basin area, we should take a
shot at catching 3 of the 4 native cutthroat trout needed for a
Wyoming Cutt Slam. We ammended our drive and squeezed in
some fishing for the rare (thought to be extinct until
"rediscovered") Bonneville cutthroat trout. Fortunately we knew
of a tiny stream not too far out of our way that held lots of
them and within a few minutes of wetting a line, Jamie and I
had our Bonnevilles. Here's Jamie showing off one of the pretty
little guys….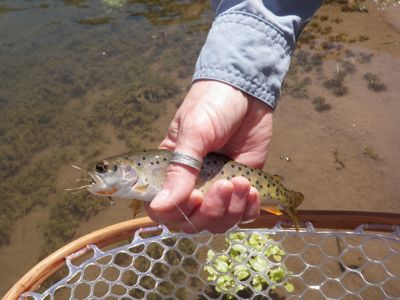 Feeling confident, we pressed on, traversing miles of
Forest service roads, all while taking in the sights. Eventually
we came to the Tri Basin (3 water basins begin here. one goes
to the Pacific ocean via the Greys/Snake river, one to the Gulf
of California via the Green/Colorado and one to the Great Basin
via the Bear River) and our camping destination, LaBarge
Creek. Along the way we encoutered numerous historical
markers as we traveled on the same trail that pioneers had
traveled in 1859 during their journey west along the Oregon
Trail. Below is a little info on the meadow we fished. Pretty
cool to think of what went on here 150+ years ago.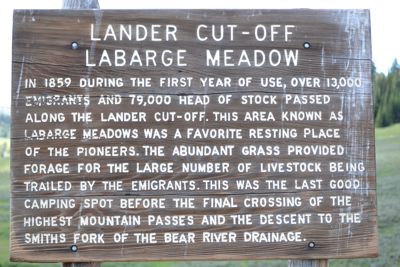 A wide shot of LaBarge Meadow… Jamie's fishing while
Sage looks for trout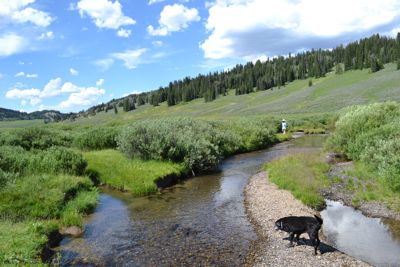 Unfortunately for us, the trout were no where to be found;
not a rise, look, fly refusal, etc. Didn't even see any spook.
This, despite reading numerous accounts of the healthy
population that resides in this stream. I'm not gonna lie, after
fishing the LaBarge hard, as well as its tiny tributaries, we
were a bit bummed. I'm not really sure what happened. The
only thing we could surmise is that the recent forest fire
nearby might have had something to do with the lack of fish…
Who know? If anyone out there has any info, I'd love to hear it.
 
Regardless, we had a great time camping along the stream
under the vast Wyoming sky. Heading home to Jackson, we
followed the Grey's river all the way to Alpine and redeemed
ourselves in the fishing department, catching several pretty
Snake River cutthroat trout. Now that we're home, we're
already thinking about a reunion trip and other places to find
some Colorado cutthroat trout.
https://tetonflyfishing.com/wp-content/uploads/2019/02/meadow2.jpg
267
400
testing
https://tetonflyfishing.com/wp-content/uploads/2019/02/tenton-fish-logo.png
testing
2012-07-22 00:00:00
2012-07-22 00:00:00
Dry Flies and some exploring