My apologies for the lack of posts lately. The current
fishing conditions have been less than inspiring and I've been
waiting until I could write something upbeat. Fishing here in
Jackson Hole is tough at best and impossible at worst. The
good news is that we seem to have finally transitioned to
some genuinely nice weather. Sunshine and temperatures in
the 70s have reminding all of us why we choose to endure 8
months of winter. The weather has also spiked snow runoff,
raising all major waterways around here to near flood
stages.
Folks have been asking when the fishing's going to come
around and I honestly can't say. Much depends on the weather
and how fast our huge snow pack melts. I will say that we are
at least a few weeks out before anything really starts shaping
up.
Despite these hard conditions, I did a few fishing trips this
week. I warned folks of extremely tough conditions, explaining
that it would be damn hard to hook anything, but that if they
still wanted to get out and cast a fly rod and learn about fly
fishing, we could do morning walk in trips on a smaller stream.
Declining my offer to refund deposits, some eager folks
decided to go anyway and we ended up having some fun
mornings. More importantly, after pounding the muddy water
with big nymphs, a few cutthroat trout were landed, allowing
my clients to experience the thrill of catching a native cutthroat
trout on a fly. I'm glad everyone had fun and I give them a lot
of credit for their perseverance and determination.
Here's David showing off a cutthroat that fell for his dead
drifted Black and Red. Not the biggest, but a fitting reward for
his casting. Nice work David!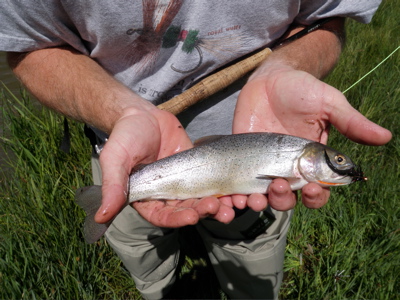 https://tetonflyfishing.com/wp-content/uploads/2019/02/davesP6220002.jpg
300
400
testing
https://tetonflyfishing.com/wp-content/uploads/2019/02/tenton-fish-logo.png
testing
2011-06-27 00:00:00
2011-06-27 00:00:00
An update on things around here