Things have been busy around here leaving little time for blog posts and fishing updates; my apologies. July's been full of fun fishing trips, good clients and unpredictable weather (clients had wool gloves on during a particularly cold, wet day a few weeks back!) Throw in a 3 month old labrador puppy, and you get the drift….
I've had the pleasure of guiding quite a few new as well as returning clients lately. It's always nice to see familiar faces and catch up on what's happened since last summer. We've been fishing the Snake, Green and Salt rivers lately; all of which are in great shape and producing. Dry fly is best on the Snake, with lots of fish being fooled with large attractor patterns. When fish get a bit more picky, PMDs (parachutes and sparkle duns) get the job done.
Bruce shows off one of his catches from the Green river. He and his wife, Susan did a nice job last week fooling some brown trout….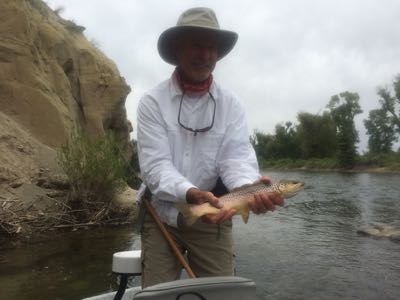 Yesterday was day off for me and Jamie insisted I take her and Lulu out on the boat. We headed south to the Salt river for a change of pace and had a great time. My friend Matt joined us and it's safe to say everyone had fun. Lulu did great on her first drift boat trip, taking it easy and supervising Jamie and Matt's casting. I'm off to fish the Snake this morning. Hope everyone's having a great summer!
Lulu keeps an eye on rising trout as Jamie mends the line….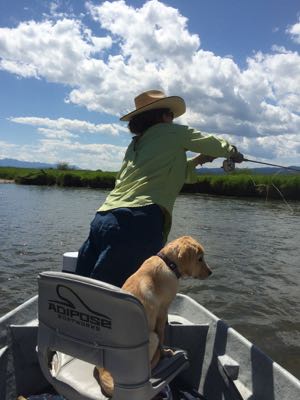 A little break along the float; everyone's taking it easy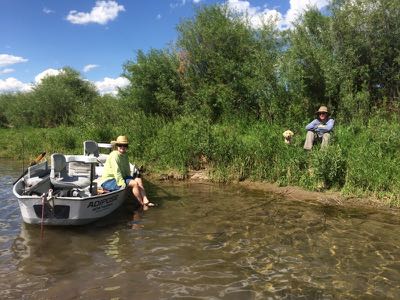 Matt shows off a nice Cutthroat trout. We won't hold it against him that he caught it on a nymph!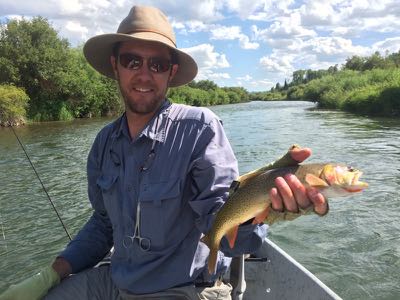 https://tetonflyfishing.com/wp-content/uploads/2019/02/matt3.jpg
300
400
testing
https://tetonflyfishing.com/wp-content/uploads/2019/02/tenton-fish-logo.png
testing
2015-07-26 00:00:00
2015-07-26 00:00:00
July's fishing update