After what seemed like an eternity, I finally got out fishing! Really, it'd only been a month or so, but if felt like forever. I used a new Orvis Recon 10′ 4wt that I got a while back specifically for nymph fishing on the Wind. Being so busy guiding this past year though, I hadn't broke it out yet. The temperature was in the mid 40s, the sun was shinning and midges were all over the water. After easing into things and and experimenting with some fly patterns, I hooked a nice brown trout who decided to run me down river and eventually popped off. At least he jumped a few times and i got a good look at him. Up river I continued, hooking up with some rainbows and browns. I finally turned back for the truck when my right leg became too numb from the ice cold water that filled up my waders- turns out I had a pretty good hole in the leg and from the minute i got in the river, water began soaking my foot and leg. Got to say it was great to get out, especially in some mild weather conditions!
First fish land on the new rod. The first fish hooked on the new rod was a wiley brown that jumped a few times and took off down river…. I laughed and appluded his efforts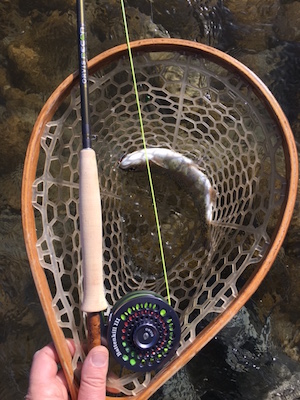 A nice looking piece of Wyoming trout water..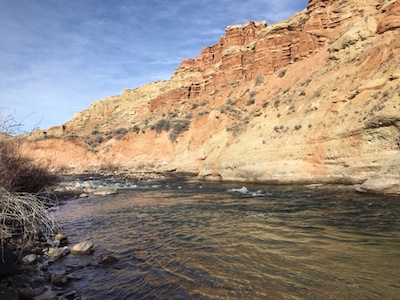 Had to be at least one fish there right? That's mr. brown trout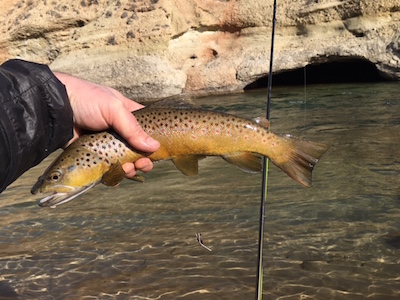 Overall I was pretty happy with the 10′ Recon rod. I had it matched with a new Battenkill reel (I think these are FANTASTIC trout reels) and a floating Orvis nymphing line. Even though the rod was a 4wt, it seemed pretty stiff (not surprising though since it seems like everyone is obsessed with fast action rods). It cast nice and felt good fighting fish. I threw a streamer a little bit with it and it had PLENTY of power to send that thing whereever I wanted. Fishing with some weight and nymphs, it cast accurately in close with just a foot or so of fly line out and also at longer distances. I guess the one benifit of the stiffer tip is that I could set the hook quickly… I am curious to try the 3wt version; maybe the tip will be a little softer..? Still though, I feel like this is a good setup for nymph fishing our bigger freestone rivers in Wyoming.
https://tetonflyfishing.com/wp-content/uploads/2019/02/IMG_3213.jpg
300
400
Nathan Bennett
https://tetonflyfishing.com/wp-content/uploads/2019/02/tenton-fish-logo.png
Nathan Bennett
2018-01-18 00:00:00
2020-02-25 13:36:41
Nymphing the January Blues Away