hmmmm. What's been going on around here at Teton Fly Fishing world headquarter? Well, not too much. I've been busying doing a lot of substitute teaching lately. The weather's been pretty lousy so it hasn't been bad being inside with high schoolers. So far this winter, snow and cold temps have alluded us. Days have been grey and kind of mild. Fish can be found gorging on midges during the warmer day in slow backwaters. Also tying a lot of flies and booking trips for the upcoming season. Hopefully my friend Matt and I will get out this weekend and scare up some fish.
I took two fine folks from Memphis out yesterday for a few hours on the Snake. I was hoping to get them into some rising cutthroat trout but I think the shift to colder temperatures (single digits) put the fish down. When the sun was out we did see bugs, but not much in terms of feeding fish. Fortunately Bruce managed a whitefish and some other strikes and he and his lady seemed to enjoy themselves.
Bruce hooked up on the Snake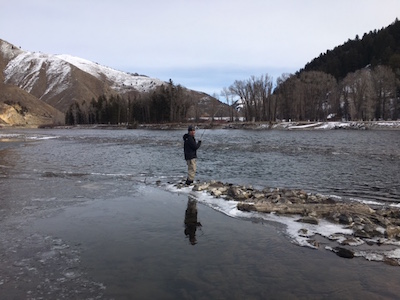 As some of you may know, I'm a bit of a guitar junkie. Always on the prowl for an old instrument to add to the stable, I couldn't resist a beat up vintage Martin 0-18. The guitar arrived Friday night and I haven't been able to put it down. Despite being ridden hard and put up wet, this little 1952 Martin sounds FANTASTIC!
The new (old) Geetar! Single 0 body, mahogany back and sides, spruce top, rosewood board… oh how i love thee. Feel free to send any of your old guitars to me….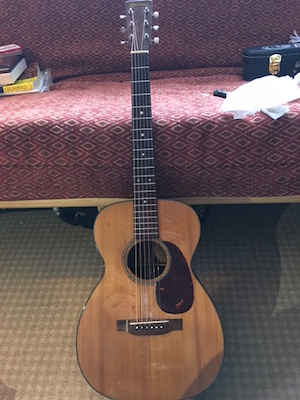 https://tetonflyfishing.com/wp-content/uploads/2019/02/IMG_3252.jpg
400
300
Nathan Bennett
https://tetonflyfishing.com/wp-content/uploads/2019/02/tenton-fish-logo.png
Nathan Bennett
2018-02-12 00:00:00
2020-02-25 13:36:41
mild winter so far