Options for fly anglers and what to expect…. Below: Snake River cutthroat from a March midge hatch.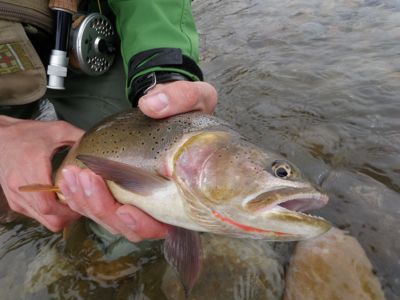 As February comes to an end, those of us fly fishermen can't help but think about spring. So too do folks looking to come out to the Jackson Hole and greater Yellowstone region to do some fishing. Many folks ask me if it's possible to fly fish around here in the spring. And while area runoff certainly makes some waters unfishable, my answer is always, "of course, …. you just have to be flexible and know where to go". Here's what I like to fish and some ideas of where you could expect to be guided when fishing with me in the spring:
March- April: This is a fantastic time to cast a fly out here in Jackson Hole. Rivers are low and clear, and as the days get longer and warmer, bug activity picks up significantly. The Snake, Green and Wind rivers can be tremendous, both from a wade-fishing and float-fishing perspective. Many days, hatches of stoneflies (both small black and brown and larger Skwalas), BWOs, midges and march browns, will make dry fly fishing outstanding. For times when fish aren't rising, nymphing and streamer fishing can be really productive.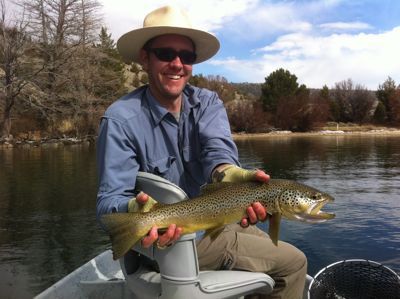 Area lakes are FUN in the spring!
May: As April comes to an end, so do much of our fishing possibilities on the rivers mentioned above due to runoff. This however does not mean fishing halts. May is the time I like to fish small area lakes; both by drift boat and on foot. After ice off, our lakes are a blast to fish, as trout (cutthroat, rainbows, browns and lakers) are often found cruising the shallows, searching for food and preparing to spawn. Fly fishing from a drift boat allows anglers to target these cruisers with streamers and nymphs. Similar to flats fishing, anglers often wait to see a fish and then cast ahead hoping the trout will give chase. As the end of May comes, even more great fly fishing becomes available. Memorial Day weekend begins the fishing season in Yellowstone National Park. This is not to be missed. Waters like the Firehole, Madison, Gibbon and other smaller streams in the southwestern part of the park fish well and experience huge hatches of PMDs, BWOs and stoneflies. In addition to fishing these great hatches, nothing beats casting along active geysers and geothermal features while Bison roam across the river.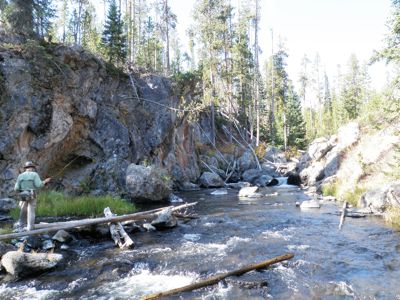 Yellowstone offers a variety of waters for fly anglers…
June: Fishing options expand even further around here, both in Yellowstone and elsewhere in June. As mentioned above, the Firehole, Madison, Gibbon, etc. all continue to fish well. Additionally, Lewis Lake and river come into their own offering anglers a chance at catching some really nice brown trout on the fly. June too means that the upper Green River is becoming fishy. Often by mid June I'm taking anglers down to the Green to fish some great hatches of Grey Drakes, Stoneflies and caddis. Area lakes continue to fish well too, making it a tough decision for some anglers as to wear they want to fish.
So that's the skinny on fishing Jackson Hole waters in the springtime. I encourage folks to give me a call and book some fun days on the water… Here's a quick summary of where I like to fish in the spring months:
March/April: Snake, Green and Wind rivers
May: Area lakes, Yellowstone National Park
June: Yellowstone National Park, Green, Area Lakes, select small streams
https://tetonflyfishing.com/wp-content/uploads/2019/02/exploring.jpg
300
400
testing
https://tetonflyfishing.com/wp-content/uploads/2019/02/tenton-fish-logo.png
testing
2014-02-23 00:00:00
2014-02-23 00:00:00
Spring Fishing conditions and options in Jackson Hole and the Greater Yellowstone region