It doesn't happen often, if ever. My fly tying bench is a collection of materials, flies, and coffee stains. I try to keep it fairly organized, but seldom give it a full on cleaning. With the arrival of new fly tying materials the other night, I decided it was time to do some spring cleaning. It felt good organizing thread, tinsel, glues, chenilles and everything else that seems to get out of control over the course of a year. I'll do my best to keep it tidy, but I suspect that as more flies are tied for the upcoming season, things will get back to a type of organized chaos.
Whoa! look at that clean bench. I can see the surface and find what i need!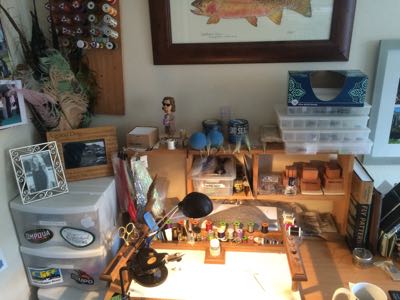 Threads are organized. Tying enough flies for me and my clients requires a pretty good selection of thread, tinsel and wire.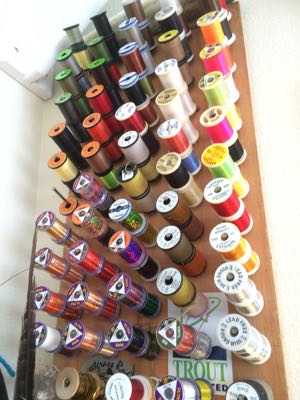 Fishing around here has been good lately. I spent yesterday scouting some water with Lulu. We covered A LOT of ground and fished a bit too. Today I spent the day guiding Jason from TN. We had a great day fishing midges to rising cutthroat trout. Tomorrow we'll pick up where we left off today, hopefully finding more rising fish and enjoying the sunshine!
Jason casts to rising cutthroat trout on the Snake river today as a moose watches from the other bank.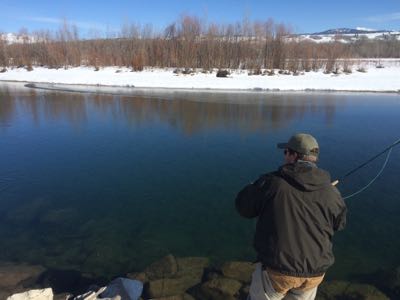 https://tetonflyfishing.com/wp-content/uploads/2019/02/jason-and-moose.jpg
300
400
testing
https://tetonflyfishing.com/wp-content/uploads/2019/02/tenton-fish-logo.png
testing
2016-02-25 00:00:00
2016-02-25 00:00:00
A clean bench