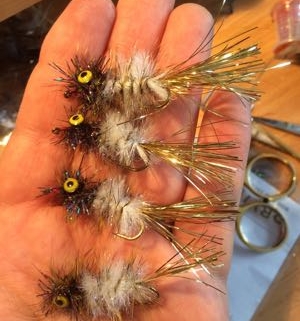 Spent the past week painting, teaching and tying/ organizing
some flies. The good news is that I finished and shipped a series
of cutthroat paintings to a client of mine. I think the four cutthroat
watercolors will look nice framed and matted in their new home.
Now it's onto the next project, another commission that, if all goes
well should be finished in the next week or so.
All four painting together on the floor. Each one is
11×14″.Top left to bottom right: Snake river fine-spotted cutthroat,
Bonneville cutthroat, Yellowstone cutthroat and Colorado river
cutthroat. Anglers who catch all four species in Wyoming earn a
cuttslam certificate. You can read an old blog about our cuttslam adventure here.
The freelance art world is funny. Over the years I've done a
number of projects and it seems like when it rains, it pours (in a
good way). Besides the paintings I'm working on, it also looks like
I'll be doing some illustrations for the JH Planet's best of issue. I
did some work for them last year, doing chariactures of various
winners. They were happy with them and it looks like I'll be getting
out the ink and watercolors to complete a few new pieces…
The weather's been pretty good around here and maybe i'll
sneak out in the next few days and wet a line. Hope folks take
advantage of warm temps over the weekend.
Not all streamers have to be articulated with tons of
rubber legs… Here are some simple, farily ugly, yet VERY effective
blinged-out wooly buggers for spring lake fishing. My thought
process, "let's make'em look like a panther-martin or something".
And yes, these blinged-out synthetic mutants will work in a river
too…
Recipe: tail: gold flash, body: white sparkly chenille,
palmered olive grizzly hackle, Yellow dumbell eyes. Hows that for
easy?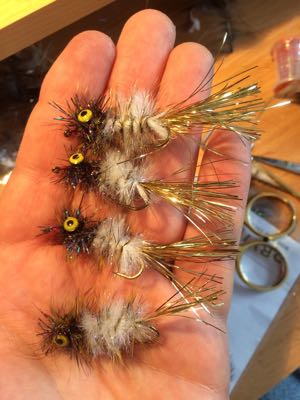 https://tetonflyfishing.com/wp-content/uploads/2019/02/lake-flies.jpg
400
300
testing
https://tetonflyfishing.com/wp-content/uploads/2019/02/tenton-fish-logo.png
testing
2016-03-11 00:00:00
2016-03-11 00:00:00
week in review