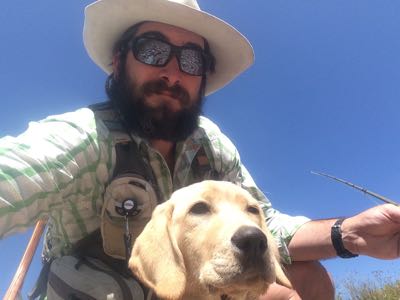 Needless to say things have been fairly crazy around here.
Guiding has been keeping from updating this humble blog. And
truthfully, if it's between being out fishing folks and writing about
fishing, I'm going to take the real thing every time!
Susan put on a clinic on the Green River. Nice Brown
trout!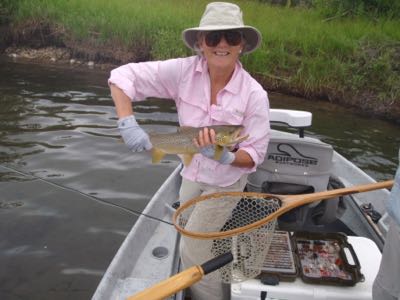 Overall the fishing here in Jackson Hole this summer has been
good. Swings in the weather though have kept me and my anglers
on our toes. One day big foam patterns are bringing fish to the
surface and the next day the fish want nothing to do with them but
are happy to sip small emergers. We've been using LOTS of
different flies depending on conditions and I believe my knot tying
speed has risen to another level… I've had anglers on all different
waters the past few weeks. Most trips have been on the Snake,
but I've also spent some days on the Salt river, up in Jellystone
and on Flat creek on the Elk Refuge.
Great time fishing with Blake and his dad for a few days.
Always fun to see those guys and even more fun to watch Blake
work a streamer under the brush piles!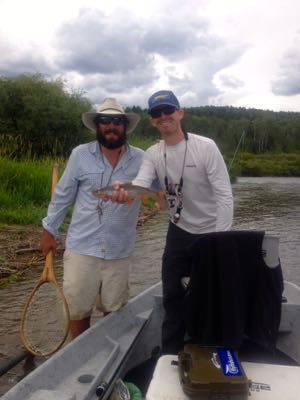 After a 20 plus day stint guiding folks, I had the weekend off. I
gotta say, it was pretty nice to catch up on things that have been
neglected- cleaning the house, finances, fly tying, yard work, etc. I
also got to spend some quality time with Lulu. We hit up lower flat
creek Saturday evening for a sunset caddis hatch and then headed
to a small cutthroat stream yesterday with my friend Matt. Lulu
continues to grow and crack us up. Spent today with Dave and
Jean from Maine. Gotta love getting out on the water with great
folks. Unfortunately the fishing on the Snake was a bit tough. We
caught fish, but it was a battle and bigger fish weren't very active.
Hoping tomorrow will be better.
Dave and Jean; couldn't imagine spending the day with
sweeter people.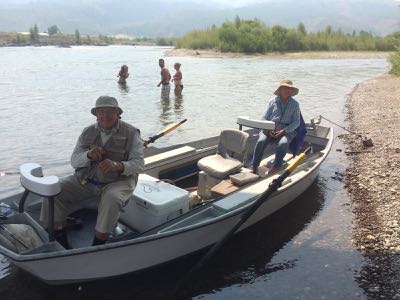 A day on the water with Lulu! At 14 weeks old, Lulu's
growing like a weed and learning the ins and outs of life as a
fishing dog.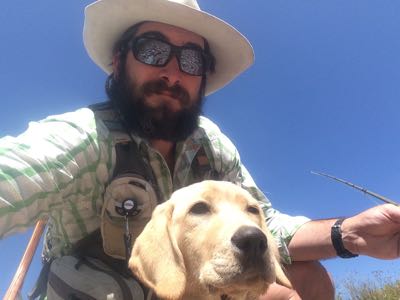 https://tetonflyfishing.com/wp-content/uploads/2019/02/me-and-lulu.jpg
300
400
testing
https://tetonflyfishing.com/wp-content/uploads/2019/02/tenton-fish-logo.png
testing
2015-08-17 00:00:00
2015-08-17 00:00:00
Mid August report from the rower's seat...