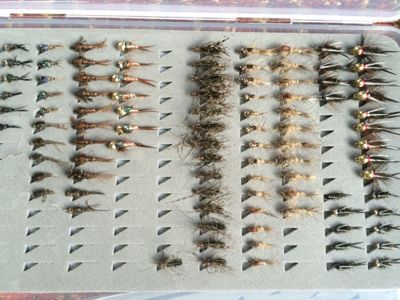 Well, winter seems to be moving right along. I haven't
been able to get out fishing the past few days; it's been pretty
cold and I've been substitute teaching. Instead I've been doing
a lot of fly tying. 
A view of my fly tying bench. I try to keep it pretty
organized but after a few dozen flies, things start to get out of
control. I recently got a new vise- a Regal Medallion with
stainless steel jaws. It replaces a Renzetti I tied on for close to
20 years. While I have no complaints about the Renzetti
traveler, I love the new Regal. It holds all hook sizes securely
and doesn't need to be adjusted at all when putting differet size
hooks in. Just squeeze the lever, insert hook and you're good
to go. Plus, no plastic pieces to fail. Most flies I tie are trout
flies in the size 6-16 range. I do however tie plenty of
streamers (#2,4s, etc.) as well as smaller dry flies, nymphs
and midges (#16-24). Any size I throw at is held in place like a
champ.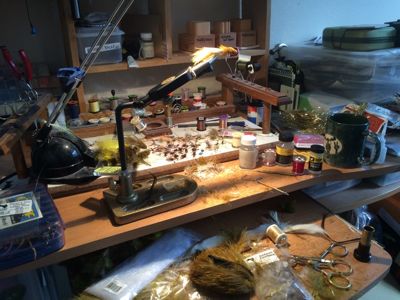 Winter fly tying is a great way to scratch the fishing itch
when you can't actually go fishing. Patterns coming off the
vise this week consisted of some big, articulated streamers
and classic nymphs. I've begun organizing fly boxes too, both
for the boat and my vest.
Here's a completed Zoo Cougar streamer (non articulated).
I really like these and they're pretty easy to tie. The duck
flank feather really makes the fly look good in the water…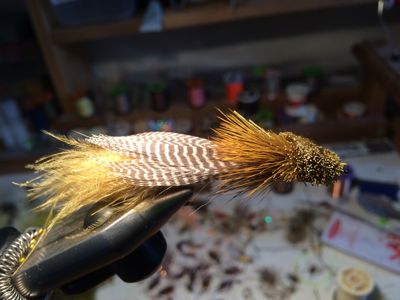 .
I splurged and bought some new thin orvis boxes for my
nymphs in hopes of simplifying selections for carrying. The box
below is getting filled with my go-to patterns for fishing the
waters here in Jackson Hole, Dubois etc. There's a ton of
patterns out there, but I always go back to the basics- Hare's
ears, phesant tails, princes, copper johns and peacock soft
hackles. I like to tie all these both with and without weight
(beadheads or lead wrapping.) In addition to this box, i'm
planning on having a box for tail-water specific bugs (scuds,
rock worms, etc.), a box for still waters (damsel nymphs,
chrionomids, scuds, etc.) and a box for the Firehole river. This
way I can grab the right box for the situation instead of
carrying everything with me all the time. Ofcourse my boat
box will be stocked full of everything so no matter where I'm
floating; Snake, Green, Big Horn, etc. I'll have what I need.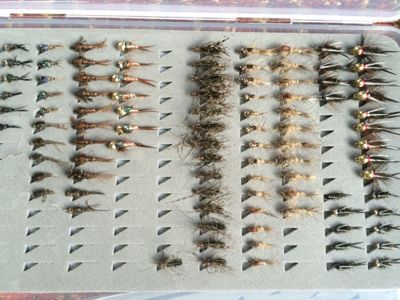 https://tetonflyfishing.com/wp-content/uploads/2019/02/flytying1.jpg
300
400
testing
https://tetonflyfishing.com/wp-content/uploads/2019/02/tenton-fish-logo.png
testing
2015-01-23 00:00:00
2015-01-23 00:00:00
Tying