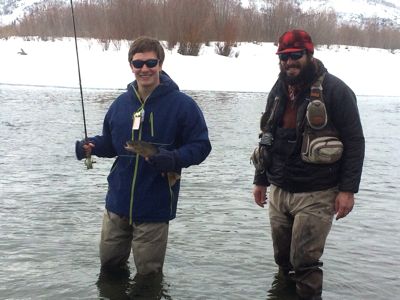 Most folks don't think of January as primetime for fly
fishing around Jackson Hole. There's snow and cold and skis
outnumber fly rods in and on cars. For those who love trout
and a fly rod, there is no reason not to get out.
Jeremy admires a healthy winter cutthroat trout on
Friday. This guy was residing in a fast run of water up a side
channel and couldn't resist Jeremy's stonefly nymph.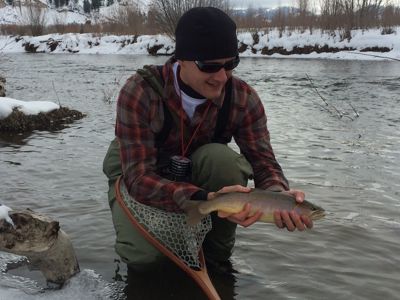 My 2015 fly fishing season has started out well, with trips
to various waters over the past two weeks. We had a warm
spell that pushed temperatures into the low 40s around here
and that was all I needed to grab the fly rod and hit the water.
I spent a few days fishing the Wind River with friends, Brad
and Leon. We couldn't have asked for better weather and the
fishing was pretty good too with browns and rainbows falling
for our nymph and streamer patterns.
I love the spotting on browns, particularly the bluish
tint around the gills and eyes. A fine specimen from the Wind
river.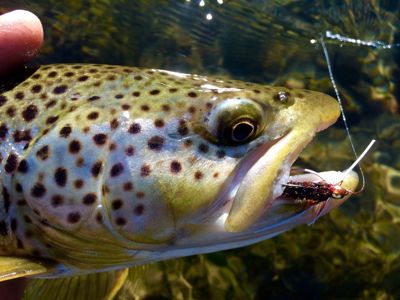 I also got out on the Snake for two days this past
weekend; one day fishing with my neighbor and good friend,
Jeremy and the other guiding Mike, William and Garrett. The
Snake fished as you would expect for this time of year-
whitefish on nymphs and a few larger cutthroat trout on
nymphs and midges. We also found a pod of sipping trout that
were anything but cooperative. Fun though! Kudos to the North
Carolina men for braving the winter weather and going fishing!
William, on christmas break from college, learned a
thing or two about tight-line nymphing on the Snake River.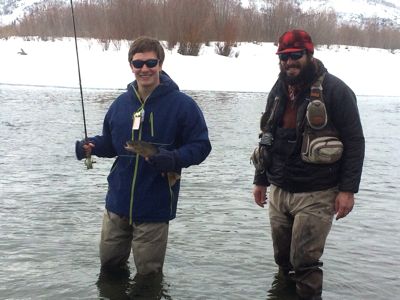 One other thing to note, the town of Dubois, Wyoming
suffered a horrible fire over the new year, which destroyed
many buildings/shops on main street. The town has pulled
together during this tough time, showing how strong this
community is. Anyone who's fished the Dubois area with me
over the years knows what a special place it is. Please keep
the town in your thoughts and anyone who wants to make a
donation to help the victims can do so through N.O.D
(Needs of Dubois).
https://tetonflyfishing.com/wp-content/uploads/2019/02/williamstrout.jpg
300
400
testing
https://tetonflyfishing.com/wp-content/uploads/2019/02/tenton-fish-logo.png
testing
2015-01-12 00:00:00
2015-01-12 00:00:00
Fishy start to the New Year