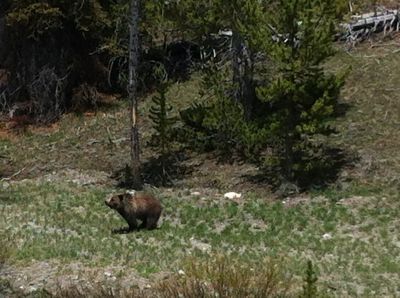 It seems like we've stumbled into summer around here.
Temperatures in Jackson Hole lately have been around 70 and
daily sunshine is melting away our snowpack. While rivers in
the region remain high, there are certainly plenty of fishy
options.
First evenin' fish of the summer! This beautiful
brown trout inspected my size 6 Sofa Pillow three times before
deciding to take the tiny Copper John dropper…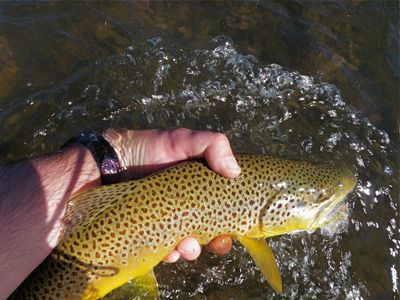 For the next month and a half (well really all
season), Yellowstone National Park is a great place to
go fly fishing. Waters in the southwestern part of the park
(Firehole, Madison, Lewis, Gibbon, Nez Perce) all fish best this
time of year, providing anglers with good hatches of PMDs and
caddis. The Firehole canyon also gets a salmonfly hatch at the
end of the month. If you're into casting BIG dry flies, this can
be a fun place to be. Area lakes are also fishing well around
the valley. Most smaller, hike-in lakes below 8,000 feet are
free of ice and crystal clear. These are fun to spend a day at;
pack your lunch, a fly rod and do a little exploring. Jamie and I
hiked into Bearpaw lake in the Tetons the other afternoon.
Fish were active, but so were the mosquitos!
After a long hike in to this fantastic Yellowstone
cutthroat fishery, I found half the lake ice free. Quickly rigging
up a rod, I landed a nice bright cutt. Unfortunately storms
rolled in with high winds, snow and sleet, forcing a hasty
retreat.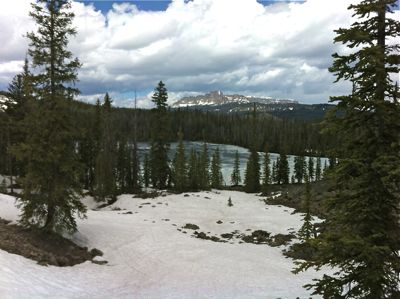 The Grizzlies bears are out and about. This guy was
feeding on grass along Togwotee pass..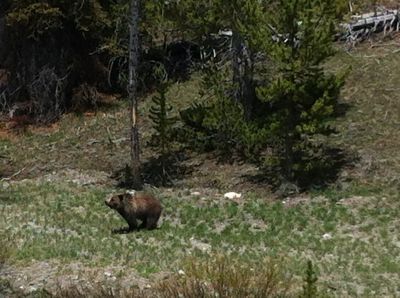 We're headed out this afternoon to the fishing cabin in
Dubois to get it ready for summer guests. Also planning on
checking some trout waters… More to come…
https://tetonflyfishing.com/wp-content/uploads/2019/02/grizzly.jpg
298
400
testing
https://tetonflyfishing.com/wp-content/uploads/2019/02/tenton-fish-logo.png
testing
2014-06-11 00:00:00
2014-06-11 00:00:00
Fishing in June sunshine!