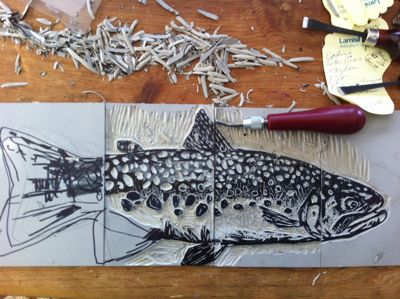 Us folks in Wyoming have been dealing with some cold
temperatures lately. Currently at Teton Fly Fishing world
headquarters this morning it's -10. That's nothing compared to
other places around the state. Canyon Village in Yellowstone
reported -36 the other day. Below zero makes outdoor
activities tough, if not impossible. That said, I do know some
folks who have been out Elk hunting; these are tough men, not
to be messed with.
I recently spent some time at our cabin in Dubois. Every
year about this time we get the water shut off, ensuring pipes
don't freeze during the times we're not there. We still get up
there quite a bit. Winter is a great time to ski on Togwotee
Pass or hike the badlands, and also can be pretty fishy, with
the Wind River taking top honors.
Lately I've been determined to get some art pieces
finished. Watercolors with ink and trout painted in oils
consumer my winter hours. Yesterday I came near completing
a linoleum-cut for print making (see pic below). I'm hoping to
print a proof today to see how it looks. We'll see… Hope
everyone's staying warm and having fun gearing up for the
holidays.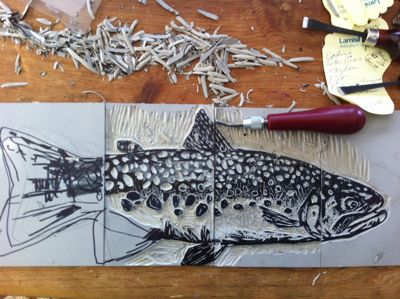 https://tetonflyfishing.com/wp-content/uploads/2019/02/block-cut.jpg
299
400
testing
https://tetonflyfishing.com/wp-content/uploads/2019/02/tenton-fish-logo.png
testing
2013-12-09 00:00:00
2013-12-09 00:00:00
Below Zero