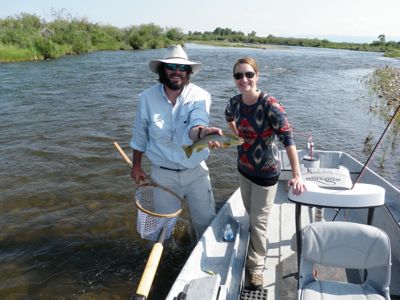 The past week offered up some great fishing around here in Jackson Hole despite the near record-breaking heat. Additionally, Forth of July festivities brought TONS of folks to Jackson, eager to fish, raft, hike and enjoy the great concert and fireworks display.
Lately I've been spending a fair amount of time fishing clients on the Green, pursuing its resident trout with dries and nymphs. Small, grey stimulators proved to be the dry fly of choice, doing a good job mimicking the smaller stoneflies hatching down there. Additionally, we picked up some nice fish in slower pools with Grey Drake spinners.
The Snake continues to run higher than normal due to increased releases from Jackson Lake dam. Idaho irrigators own the water rights to the water stored in the lake, and with another dry winter in their neck of the woods, they need water and are doing their best to draw the lake down as low as it'll go. Ah, all for the love of potatoes….. That said the Snake is starting to fish well, particularly in the side channels and slower backwaters. Caddis, PMDs, and Stoneflies can all be seen buzzing around and I've seen the first hoppers of the season along the banks. As we get into the height of the summer, grab your attractor patterns and take advantage of the great dry fly fishing that this area is known for.
Chris and his lady, Sassy, fished the Green like champions and were rewarded with some good fish via dry flies……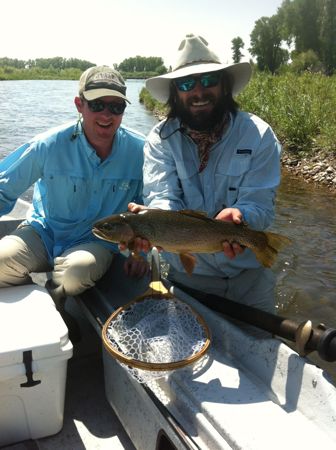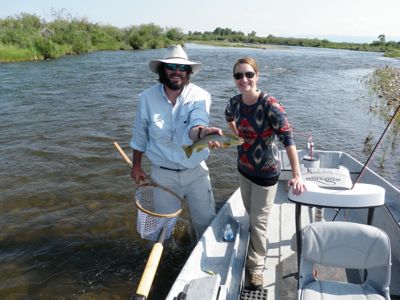 https://tetonflyfishing.com/wp-content/uploads/2019/02/sassy-with-brown.jpg
300
400
testing
https://tetonflyfishing.com/wp-content/uploads/2019/02/tenton-fish-logo.png
testing
2013-07-07 00:00:00
2013-07-07 00:00:00
July's heating up