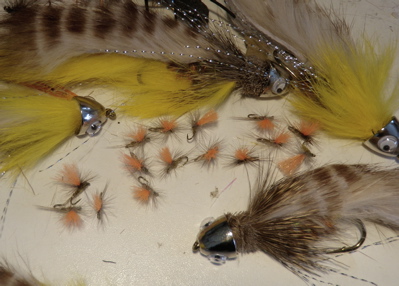 Today, being the snowy day that it was, seemed like a
great day for fly tying. As some of you know, I tie enough
flies over the winter (and throughout the season) to outfit
myself and my Teton Fly Fishing clients (not to mention some
fishing friends). My winter tying goes in waves. Some days,
dozens of flies are tied, while I succumb other days to
distractions like art projects or my guitars. Overall I've been
making good progress this winter; there are still patterns to
be tied, but overall the fly boxes are looking good.
This morning I hit the extremes of the fly tying spectrum. I
started by (with the help of some coffee) tying a dozen and a
half size 20 Blue Wing Olive parachute dry flies; a great
pattern to carry here in the western Rockies, as the BWO are
often the first and last major hatch of the season. After
finishing them, I moved on to some size 4 conehead
streamers; imagining how quickly they would get down under
cut banks and logs, bring large Green River brown trout and
Snake River cutthroat to their knees.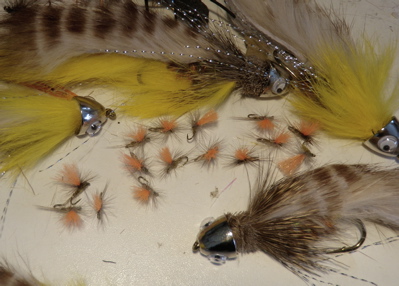 When I was finished, I got to thinking how funny (and
interesting) it is that trout will feed so willingly on such tiny
bugs one minute, while chasing such large flies the next. A
dead drift along a seam or violent strips under a log. The
choice is yours.
https://tetonflyfishing.com/wp-content/uploads/2019/02/P3060001.jpg
286
399
testing
https://tetonflyfishing.com/wp-content/uploads/2019/02/tenton-fish-logo.png
testing
2011-03-06 00:00:00
2011-03-06 00:00:00
All things big and small