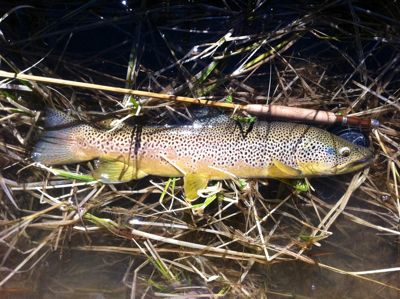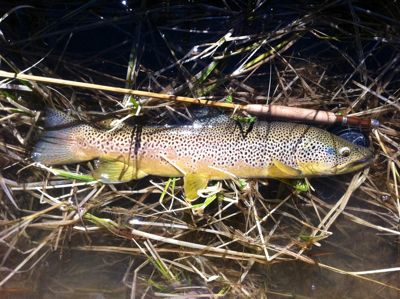 Turns out, simple CAN be better. A few days back I ran
over to Dubois to do a little preseason work on the cabin.
Since the weather was lousy and I was planning to only spend
a night, I didn't take my fishing gear with me. Once there
though I started thinking about fishing; turns out the weather
wasn't quite as bad as predicted and Jamie told me to stay
and she'd come over with some friends at the end of the
week. With an unexpected free day, thinking
about fishing turned to going fishing. The only
problem was that my gear was at home. Fortunately I
remembered having a 4wt bamboo rod at the cabin as well as
a cheap reel with embarrassingly old fly line on it. Combine
those with one fly box of random patterns and a few spools of
tippet, and I was in business!
So off I drove, determined to make the most of my day.
To make a long story short, the wind was better than expected
and I found fish rising occasionally to emerging midges. For
the better part of the morning and early afternoon I had a
blast trying to control angry brown trout with my uber-slow,
soft tipped 4 wt rod.
https://tetonflyfishing.com/wp-content/uploads/2019/02/hugebrown.jpg
299
400
testing
https://tetonflyfishing.com/wp-content/uploads/2019/02/tenton-fish-logo.png
testing
2014-04-27 00:00:00
2014-04-27 00:00:00
Simple