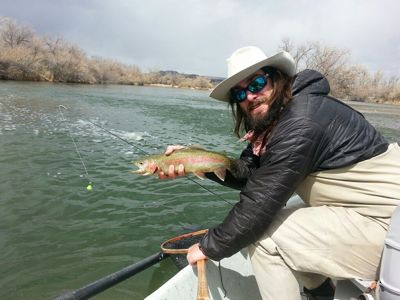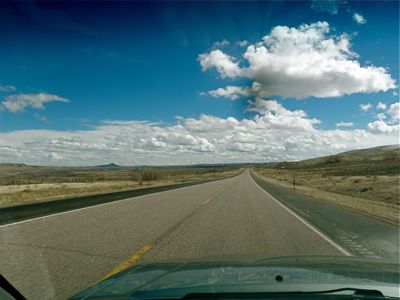 on the open road; headed to Lander, WY without
company….
Last week my friend Jeff, picked up his new drift boat in
Idaho Falls. After arriving back home in Lander, WY, Jeff
invited me to come out and join him for the inaugural float.
With an open schedule and already being nearby in Dubois, I
threw some gear in the Pathfinder and headed east, arriving in
Lander with just enough time to hit up the Popo Agie with Jeff.
We had a great time fishing nymphs and streamers, picking up
a few trout and enjoying the relatively warm weather. After
the sun dipped behind the red hills,we celebrated our
afternoon with a trip to the Lander Bar for burgers and beer.
The next day we hooked up Jeff's new Clacka and headed
north to Thermopolis to fish the Big Horn. The Bighorn is the
Wind River; name changes upon coming out of the Wind River
Canyon (courtesy of the white man…). Along with Jeff's sweet
black lab, Cora, we took our time floating and fishing the river.
While we got into some fish subsurface, the highlight for me
was when BWO blanketed the water and brought fish to the
surface. We opted to take their challenge, fishing size 20 BWOs
on fine tippet, connecting with several nice browns and
rainbows. Jeff rounded out the day, catching a feisty 'bow on a
streamer.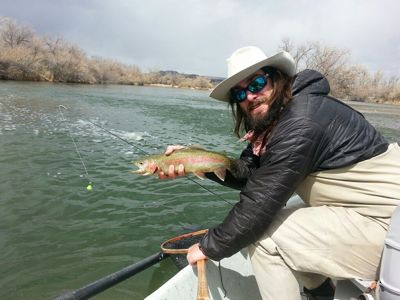 A nice rainbow falls victim to the red worm…
https://tetonflyfishing.com/wp-content/uploads/2019/02/bh1.jpg
300
400
testing
https://tetonflyfishing.com/wp-content/uploads/2019/02/tenton-fish-logo.png
testing
2014-04-07 00:00:00
2014-04-07 00:00:00
Lander, Thermop and the Bighorn