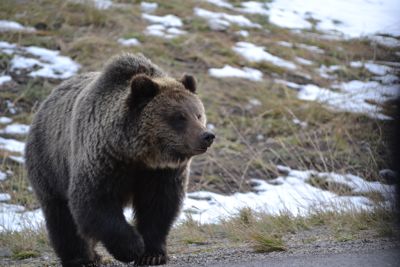 When October arrives, with it comes the transition to
winter. Lately here in Jackson Hole, the weather has varied
considerably, with snow and fast-moving early season storms
making frequent appearances. Animals are doing their best to
put on the pounds for the upcoming winter. Trout do this too,
sipping Blue Winged Olives and the odd grasshopper that
stumbles into the cold current.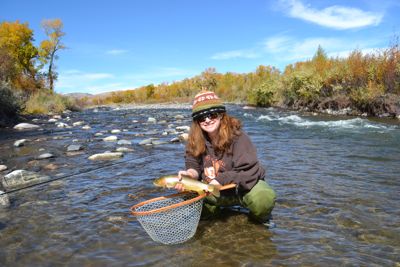 Jamie showing off one of the nice trout from the
weekend
We've been trying to make the most of things around here,
fishing as much as possible and tying any necessary flies that
aren't already in the fly boxes. Jamie and I got out this past
weekend, spending one day scouting for fall-run brown trout
and another day on a beautiful Dubois trout river. We failed to
locate staging browns in the lake. The wind added considerable
challenges and it's probably still a little early, but it never hurts
to check…. Nymphing proved successful on the moving water.
Jamie ended up landing several really nice cutthroat trout
during the hours we spent out. Besides the trout, we saw mule
deer, pronghorn, a fox and two Grizzly bears.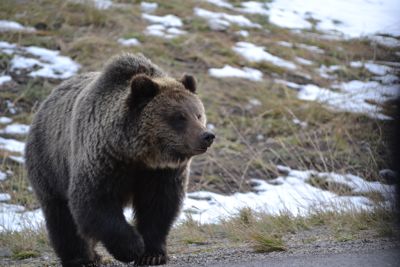 One of the two Grizzlies we saw on our drive home.
These guys walked right by our car
The Gov't shutdown has affected things around here.
GTNP, Yellowstone and the National Elk Refuge are all closed
at the moment, denying access to the anglers and guides who
hoped to fish, not to mention all the folks who were planning
to enjoy the parks in arguably the best month of the year to
sightsee. I'm doubtful that things will reopen before the
season ends and we'll probably have to wait until next year to
fish the miles of great water in our parks. In the meantime
there are still plenty of fishy waters to explore that remain
open and unaffected from the idiots in Washington. Tributaries
in the forest are still fishing well and bigger rivers the like
Snake are in their prime.
https://tetonflyfishing.com/wp-content/uploads/2019/02/griz3.jpg
267
400
testing
https://tetonflyfishing.com/wp-content/uploads/2019/02/tenton-fish-logo.png
testing
2013-10-09 00:00:00
2013-10-09 00:00:00
October