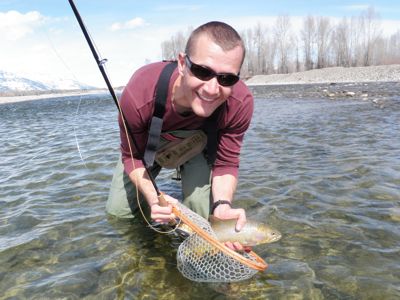 Some of you may have already seen this, but for those
who aren't on my email list, here's is a copy of the spring
2013 newsletter I sent out last week.:
A big springtime hello from Jackson Hole! If you're as
excited as I am for the upcoming fishing season, this
newsletter's for you. Little black stoneflies were active on the
Snake River today and Jerome took full advantage…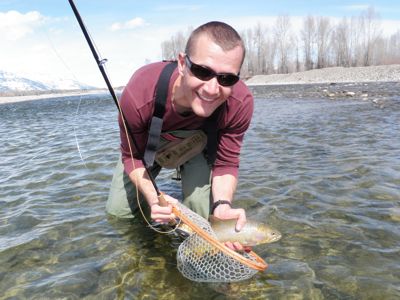 Overall, fishing has been pretty good lately. Spring brings
hungry trout to the surface, actively feeding on hatching
midges and stoneflies. In addition to the small, black stoneflies
we're seeing on the Snake right now, I expect larger Skwalas
to begin crawling on the banks and fluttering clumsily on the
water in the next week or two. Fishing will probably get
underway a little earlier this year since the mountain
snowpack is slightly below average.
If you're thinking of coming out to fish with me, I've got a
few exciting things to report for the upcoming season. First
off, I have a new Adipose drift boat that's going to make for
an even better float-fishing experience. This also will let me
take folks fishing on a few glacially carved lakes when rivers
are running high. If you're looking for a multi-day adventure,
checkout the Dubois overnight option. With the Wind River and
a variety of smaller, wild trout streams to explore, you'll think
you died and went to fishing Heaven! All this in addition to
fantastic float-fishing on the Snake, Green and Salt rivers.
So there you have it; fish, news and exciting fishing
possibilities! Keep checking the Teton Fly Fishing Blog for
fishing reports and adventurous tales and give a holler if you're
thinking of coming out this way and want to book a trip.
All the best, Nate
https://tetonflyfishing.com/wp-content/uploads/2019/02/jfish.jpg
300
400
testing
https://tetonflyfishing.com/wp-content/uploads/2019/02/tenton-fish-logo.png
testing
2013-04-03 00:00:00
2013-04-03 00:00:00
Spring newsletter