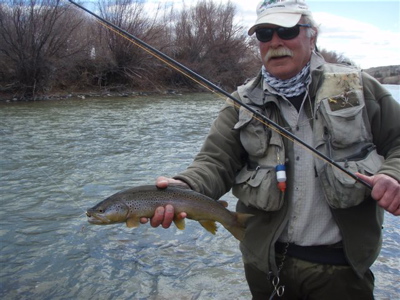 Just because the water's dirty doesn't mean there aren't fish
to catch. At least that was the case yesterday when I went
fishing with Leon and Gary. We battled high winds and water
that got dirtier as the day progressed, but were rewarded with
some nice Brown trout. Here's Leon with one of his pet
fish……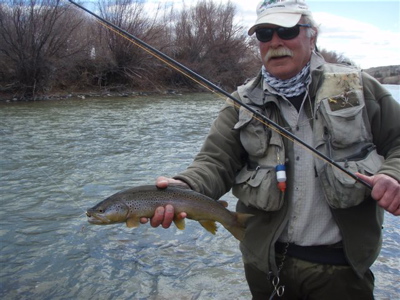 Here in Jackson, we're in the midst of what appears to be a
genuine spring thaw (finally). And despite the snow in the
forecast for this evening, it looks like temperatures will remain
on the warmer side (meaning rain here in the valley?). Jamie and
I still have a good amount of snow in the backyard, but it's been
melting quickly the past few days, revealing a few small patches
of grass. In theory, the warmer weather means that fishing
around here should be good until the runoff begins.
One last note, Sage (our fishing companion) has made a full
recovery! Jamie and I took her stitches out last night and she's
back to her old self.
https://tetonflyfishing.com/wp-content/uploads/2019/02/leon.jpg
300
400
testing
https://tetonflyfishing.com/wp-content/uploads/2019/02/tenton-fish-logo.png
testing
2011-04-02 00:00:00
2011-04-02 00:00:00
A little dirty water never hurt anyone