Here in Jackson Hole, the first few weeks of 2017 have been cold and snowy. Temperatures dipping to around 30 below and several feet of snow have have meant a lot of time indoors. I've been staying busy tying flies, building some cigar box guitars and opting to capture trout with watercolors rather than more conventional fly fishing tackle.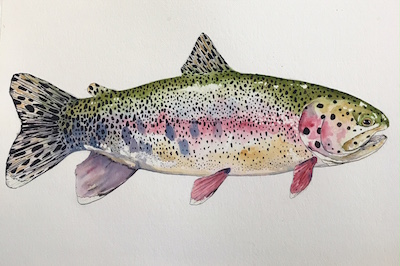 A new watercolor- "Fall River rainbow" 16×24. While subbing HS art class, I was able to work on several new paintings including this one.
That said, last Saturday I took three crazies from Michigan wade fishing on the Snake. Despite the fact that temperatures barely got above 0 during the day, Sean, Tim and Sean wanted to say they fished the Snake while visiting Jackson. We found a little water that was open and free of ice and worked it until feet and fingers were cold. The fish didn't eat our nymphs though and after about an hour, fly rods were traded for pulls of whiskey and we retreated back to the truck. Never have i guided in such cold weather and I don't plan on doing it again…. In the weeks to come, as days start getting longer (and a bit warmer), I'll continue the winter fishing, both for fun and with clients.
https://tetonflyfishing.com/wp-content/uploads/2019/02/FullSizeRender6.jpg
266
400
testing
https://tetonflyfishing.com/wp-content/uploads/2019/02/tenton-fish-logo.png
testing
2017-01-15 00:00:00
2017-01-15 00:00:00
Mid January in Jackson Hole